Your summer timetable 2023!
With your SchülerFerienTicket MV you can use all public transport throughout the summer holidays and combine your trip with a visit to our summer destinations.
The ticket is valid in the period: 15.07. - 27.08.2023 and is available from 19.06.2023 here in our online shop.
The SchülerFerienTicket MV is a joint campaign by the transport companies of the state of Mecklenburg-Vorpommern with the support of the Ministry of Economic Affairs, Infrastructure, Tourism and Labour and the VMV - Verkehrsgesellschaft Mecklenburg-Vorpommern mbH.
The ticket is valid for:
Pupils public, state-approved or state-recognised private general education schools as well as specialised grammar schools and specialised upper secondary schools (without vocational qualification) on presentation of a pupil ID card or comparable proof of eligibility.
You can find a certificate, which you can have filled out by your school, at Download here.
The ticket is not valid for:
Pupils older than 21 years, i.e. the pupil must not be older than 21 years at the beginning of the holiday.
Students, trainees, pupils of night schools
Here's what to look out for:
the ticket is personal, it is not transferable
Before using the ticket for the first time, please fill it in with a biro and sign it.
there is no replacement in case of loss or destruction
60 € will be charged for unauthorised use
a return of the ticket after 14.07.2023 is excluded
the conditions of carriage of the respective transport company apply
We wish you a great holiday season and a safe journey through our beautiful state.
Extra trips to Berlin & Hamburg!
The ticket is also valid for a journey from Mecklenburg-Western Pomerania to Berlin Hbf and Hamburg Hbf and back on local trains operated by DB Regio AG and ODEG. The outward and return journey is possible within the period of validity of the SFT. The ticket is not valid for further journeys in Berlin (VBB) or Hamburg (HVV).
The journey may not be interrupted after the last stop in Mecklenburg-Vorpommern on these routes:
RE1 between Schwanheide and Hamburg Hbf (travel via Lübeck is not permitted),

RE3 between Pasewalk and Berlin Lichterfelde Ost,

RE5 between Neustrelitz and Berlin Südkreuz and

RE8 between Grabow and Berlin Ostkreuz.
Early exit is possible.
You want to be informed about the SchülerFerienTicket MV?
On our Instagram channel, we introduce you to exciting travel destinations and take you with us through the summer.
Exciting activities await you at the summer destinations:
Enjoy ingenious advantages:
Use the SchülerFerienTicket MV during the entire holiday period, whether by bus or train, for only €32 to get to your destination.
Get great discounts on your summer destinations.
Shopping in Schwerin today, Warnemünde tomorrow and Rügen the day after? No problem!
An extra trip to Hamburg and Berlin is included!
5 Stralsund Oceanographic Museum
This declaration of love for the seas invites you to a journey through the underwater world in a spectacular building that is unique in Europe. Present your SchülerFerienTicket MV and receive a €1 discount on admission.
Ozeaneum Stralsund, Hafenstraße 11, 18439 Stralsund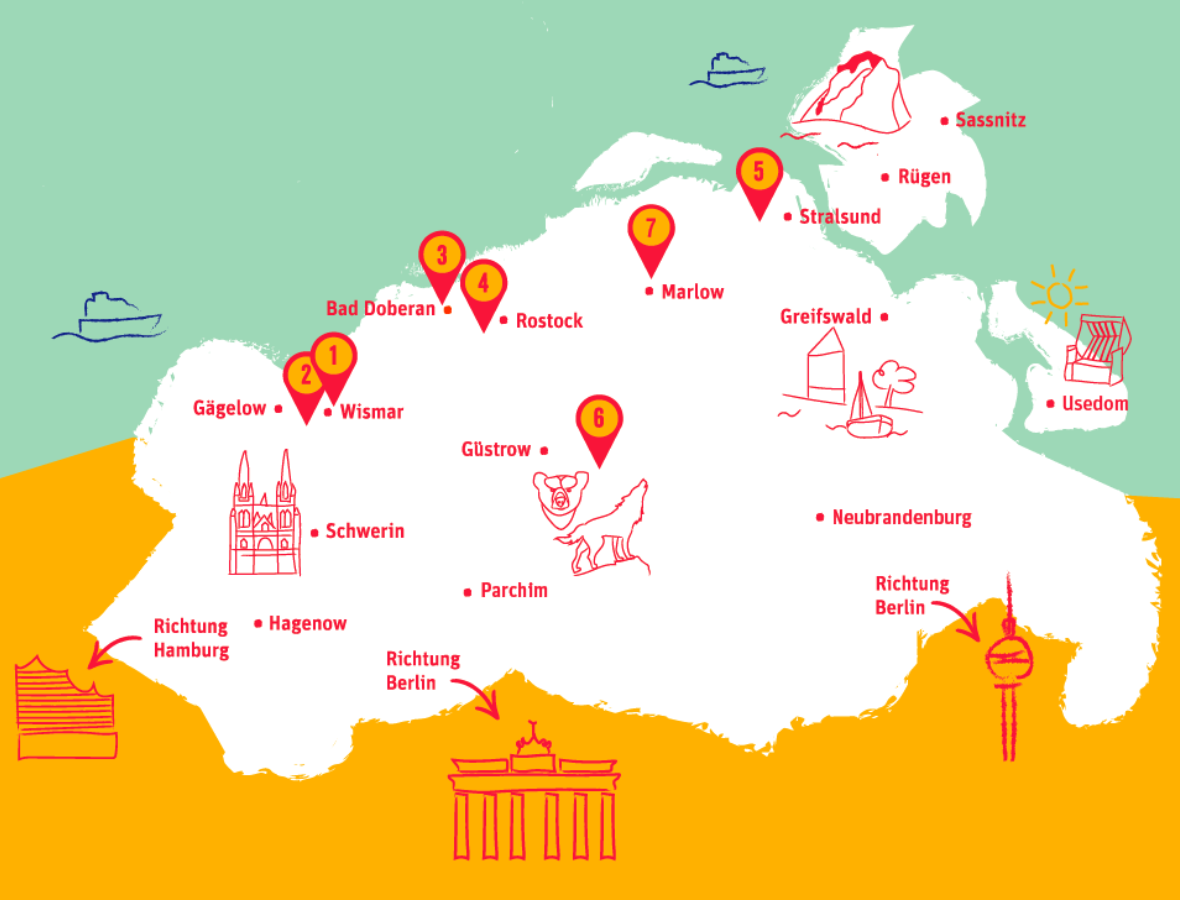 If you have any questions or suggestions, we will be happy to help you on 0385 59087-0.
Accessibility from 9 - 17 h